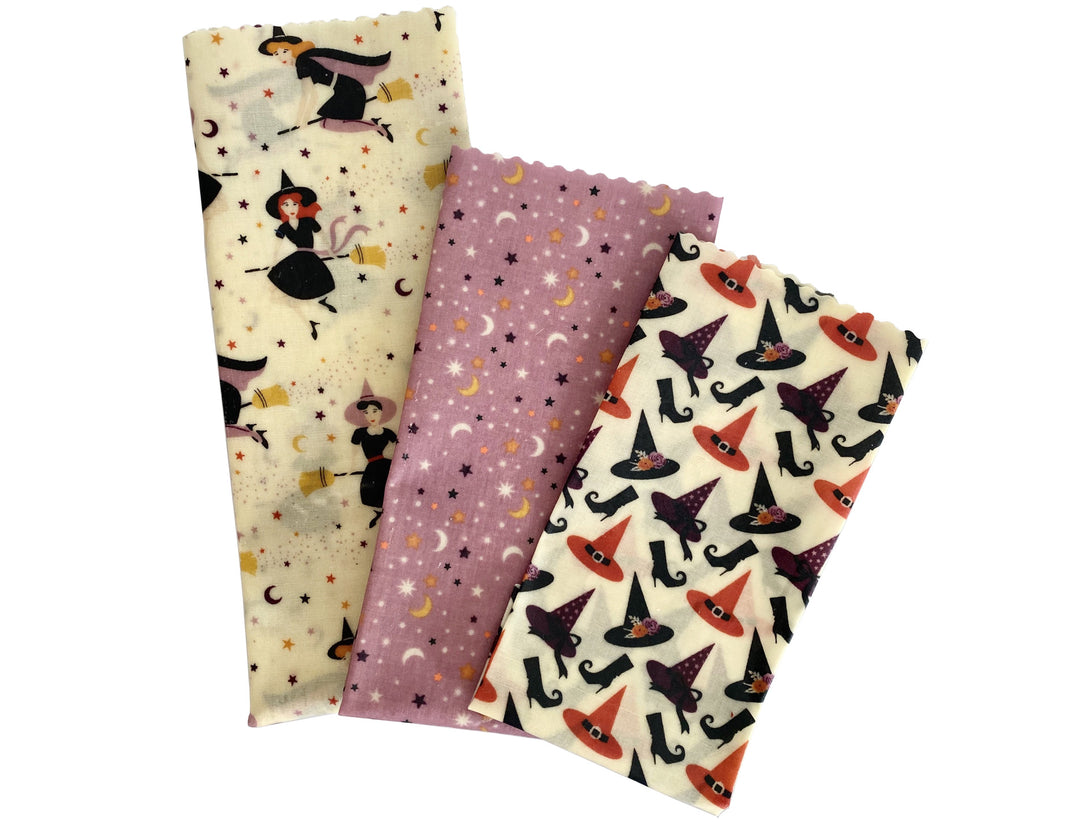 Good Witches Beeswax Set
---
Reusable beeswax food wraps are an eco-friendly alternative to plastic wrap. They keep foods fresh as the beeswax provides a natural seal. Plus the wraps themselves smell wonderful! We handcraft our own beeswax wraps with sustainably harvested ingredients from the US.
We use only 100% pure beeswax. We researched the most sustainable bee farm to obtain our beeswax from. We selected a family-owned bee farm in Ohio due to their conservation and 'steward of the land' efforts and awards. Did you know that a company can claim their beeswax is 'pure' with only 51% of the wax being pure beeswax? Some companies sell "pure" beeswax products which contain a combination of 51% beeswax and 49% toxic paraffin (a petroleum-based product). We only use 100% pure beeswax from a farm focused on conservation and bee preservation. 
To Use:
The warmth of your hands will soften the wax a bit. Wrap anything that you would wrap in plastic or place in a ziploc bag. Fruit, veggies, bread, cheese, sandwiches, crackers, etc... Or place over a dish. Press with your fingers to seal. Its so easy! Do not use to wrap raw meat or warm/hot foods (your wax will melt).
To Clean:
Use cool water and dish detergent when needed to clean your wax wrap. Reminder... warm or hot water will melt the wax. Not dishwasher, microwave, or oven safe. Store at room temperature out of direct sunlight.
Made from:
Handmade from 100% cotton fabric, natural beeswax (sustainably harvested from a conservation-focused bee farm in Ohio), pine resin, and organic jojoba oil.
This set includes:
1 piece 14 inch wrap

1 piece 10 inch wrap

1 piece 8 inch wrap
Made in Greer, SC.
Reusable! Most wax wraps will last for approx. 1 year. Ours have lasted much longer with proper washing and storage in a reusable silicone bag. When done with the wrap just add to your backyard compost pile.
We researched the most sustainable bee farm to obtain our beeswax from. We selected a bee farm in Ohio due to their conservation efforts. The family owns 200 acres filled with alfalfa, clover, basswood trees, locust trees, with everything planted for the bees and wildlife in mind. The family has planted 20 acres specifically in white and yellow clover for the bees. The majority of the property is undisturbed and not farmed, allowing the bees and wildlife to naturally forage. There are natural springs, a lake, and creeks as well, providing plenty of water to help the bees in the hot summer months.