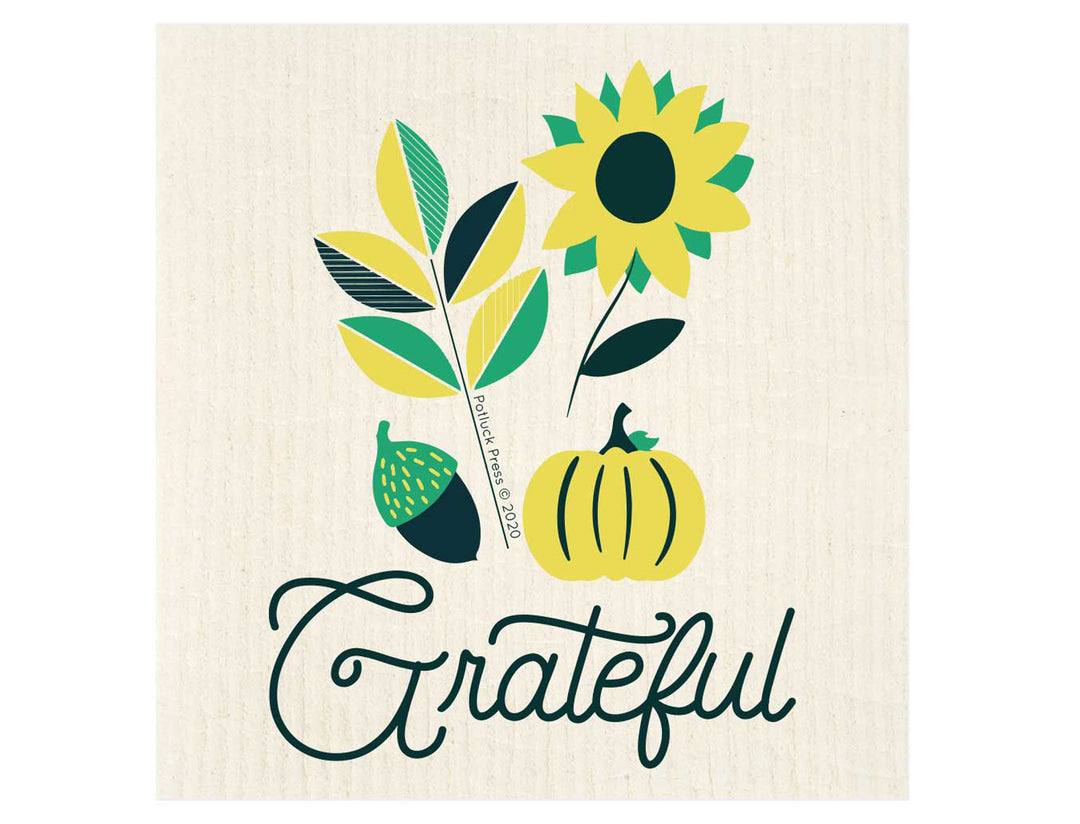 Grateful Autumn Flora Swedish Dishcloth
---
Potluck Press' absorbent Swedish dishcloths are a wonder in the kitchen. You'll never want to go back to sponges or regular cloths when you see how they work. They soften when wet & wash & dry like a dream.
Use them instead of paper towels to blot up spills -- they absorb 20x times their weight in water and dry out quicker than sponges.
Details
Made of cellulose and cotton.
100% biodegradable.
Made in USA.
Size: 6.75 X 8
How to Use & care instructions:
Wash dishes. Wipe up spills. Scrub counters. Clean mirrors.
- Cleans virtually streak-free. More absorbent when damp.
- Use on glass, granite, tile, ceramic, stainless steel, and more.
- Works well with just water, soap, and sprays.
- Air dries fast, so it doesn't breed bacteria like a conventional (disposable!) sponge.
- Dry flat, or drape over the sink or faucet. The more surface area exposed to air, the faster it will dry.
Keep your cloth clean so it can keep cleaning. Wash up to 200 times and reuse!
- Squeeze out excess moisture after use. Do not wring out, to keep shape.
- Clean in the top rack of the dishwasher, or in the washing machine. Air dry only.
- To sterilize: microwave when damp, or boil briefly. Use some bleach if desired.
- Reuse, and rejoice!
100% biodegradable when it is ready to return to the Earth.
Why we like it
3,000 tons of paper towels end up in our country's landfills every day. One Swedish Dishcloth replaces 17 rolls of paper towels. They absorb 20x their weight and are far more hygienic than a sponge and won't crumble or pill. They air dry quickly, so it doesn't breed bacteria or smell.